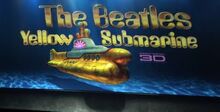 Yellow Submarine was a planned computer-animated fantasy musical film based on the 1968 animated film of the same name by The Beatles and directed by Robert Zemeckis[1], the film was to be produced by Walt Disney Pictures, Apple Corps Ltd. and ImageMovers Digital altogether as it was announced to be released in 2012 for the Summer Olympics in London.
Plot
A 3-D adaptation of the classic Beatles animated feature in which the British pop band traveled to a magical place called Pepperland in their yellow submarine to drive away the evil music-hating Blue Meanies.
Why It Was Cancelled
People at Disney were concerned at how motion capture animation looked.
Simon Wells' Mars Needs Moms flopped at the box office.
ImageMovers Digital had been shut down by Disney in 2011 and absorbed back into ImageMovers.
Cast
Peter Serafinowicz as Paul McCartney
Dean Lennox Kelly as John Lennon
Adam Campbell as Ringo Starr
Cary Elwes as George Harrison
Result
Robert Zemeckis announced to everyone that his animation studio ImageMovers Digital was out of business, and even cancelled the movie permanently as he either thought it was a terrible idea to make a movie based on the song or that it may upset many Beatles fans.
References
Community content is available under
CC-BY-SA
unless otherwise noted.