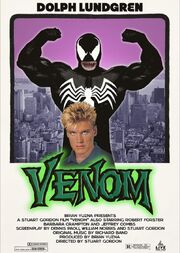 In the 90's after Marvel went bankrupt, they sold the rights of their characters to various movie studios. In 1997, David S. Goyer (The Dark Knight Trilogy, Blade Trilogy, Ghost Rider Spirit of Vengeance, and the Unborn) made a script for a film that New Line Cinemas was making.
Plot
The script is available online but to make a long story short, the film focused on Eddie Brock and Cletus Cassidy's rivalry. The Venom symbiote was also a large black spider while the Carnage symbiote was one of the members of a group of symbiotes called the Bloodhunters.
Cast
Dolph Lundgren as Eddie Brock/Venom
Robert Englund as Cletus Kasady/Carnage
Rebecca De Mornay as Anne Weying
Why It Was Cancelled
New Line did not like Goyer's script.
New Line sold the Venom rights to Sony.
Results
The film was cancelled.
Venom 2007 appeared in Spiderman 3 & Spiderman: No Hay Home.
Many other Venom solo films were being made by Sony. But after many of them faced cancellations, Venom finally got his own solo movie in 2018 starring Tom Hardy as Eddie Brock/Venom; which was later followed up by Venom: Let there Be Carnage, which was released in 2021.
Reference
https://drive.google.com/file/d/1bbofs5tF05ACKT6t7qyXokQWiBQkdTfr/view
Videos