Note: Please do not add Johnny Hallyday "died on 5 December 5, 2017" and "Michael Lonsdale died on September 21, 2020", because that was before that happened.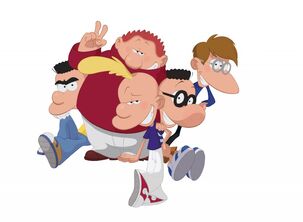 After the release of the 2011 film Titeuf, there were plans to make two sequels. It was supposed to have a mix of 2-D and traditional animation.
Plot
The plot of the sequel is currently unknown.
Cast
Donald Reignoux As Titeuf / Hugo
Mélanie Bernier As Nadia
Nathalie Homs as Manu / Zizie
Sam Karmann as Titeuf's father
Zabou Breitman as Titeuf's mother
TBA as Ramatou
Himself as Johnny Hallyday
Vincent Ropion as François
Danièle Hazan Musicista as Teacher
Amélie Lerma as Dumbo
Marie Zidi as Nathalie
Rest of the cast is unknown.
Why it Was Cancelled
MoonScoop Group was on production Bankruptcy on January 24, 2014
Titeuf Le Film received mixed reviews.
Results
The sequel was permanently cancelled.
Titeuf Le Film is a stand-alone film.
The film series will be reboot into a CGI-animated movie titled Titeuf The Movie set to be the first installment of the Reel FX Animation Studios to be in development.
Trivia
During the early development of the sequel, the film was cancelled.
External Links