Note: Please do not add Michael Lonsdale "died on 21 September 2020", because that was before that happened.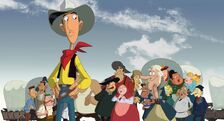 After the release of, there were Development plans to make Prequel. It was supposed to have a mix of 2-D and traditional animation.
Plot
The plot for the prequel is currently unknown.
Cast
Lambert Wilson as Lucky Luke
Clovis Cornillac as Joe Dalton
Alexis Tomassian as William Dalton
Christophe Lemoine as Jack Dalton
Bernard Alane as Averell Dalton
François Morel as Rantanplan
Stéphane Ronchewski as Melvin Peabody
Rest of the cast is unknown.

Why it Was Cancelled
After development of the prequel, the film was cancelled.
Although the first alone films were box office hits, Xilam was disappointed with the box office Last Week returns of the previous films.
Olivier Jean-Marie, who wrote the film died in May 2021 before he could have a hand in making a prequel film.
Les Dalton on Ending 15 July 2015 with a series on Xilam plan poor that only not renewed series Third
Results
The prequel film was permanently cancelled
Go West! A Lucky Luke Adventure is a stand-alone first film.
Trivia