Stoopid Buddy Stoodios announced that a Camp WWE film was going to be a full length film but was later announced to be a Theatrical films, but it was later cancelled for unknown reasons.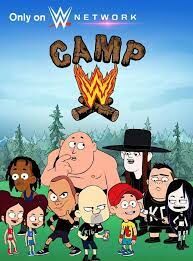 Plot
The plot is currently unknown.
Cast
Vince McMahon as himself
Ric Flair as himself
Sgt. Slaughter as himself
Ashley Bornancin as John Cena
Dan Lippert as Big Show
Frank Lawson as R-Truth
David Michael Brown as The Undertaker and Triple H
Aly Fainbarg as Stone Cold Steve Austin, Brie Bella, Nikki Bella, Stephanie McMahon, Paige
Awkwafina as Asuka
Unknown as Sasha Banks
Unknown as Charlotte Flair
Jessica DiCicco as Becky Lynch
The Godfather as himself
Unknown as Kevin Owens
Lex Luger as himself
Unknown as Dean Ambrose
Unknown as Rusev
Brian Thompson as Bray Wyatt
Xander Mobus as The Ultimate Warrior
Rest of the cast is unknown.
Why It Was Cancelled
The reasons are currently unknown.
After the two seasons, of Camp WWE, it ended on June 3, 2018 form the Last Appearances of Big Show, Dean Ambrose, Mark Henry, Rusev, Jake Roberts, Goldust to this All Elite Wrestling, Ric Flair and Bray Wyatt to Released 2021.
Results
Camp WWE remained a series, with no movie at all.
Camp WWE has been not on TV scheduled for 2017, 2019, 2020 and 2021
Peacock announced Camp WWE series will return with renewed for a new season 3 and 28 episodes in 2022.