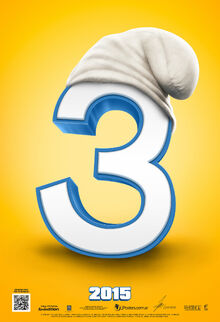 Note: Please do not add that "The Sony Hack was going on" as a reason here, because this was before the Hack occurred.
The Smurfs 3 is a proposed third installment in the CGI/live-action Smurfs franchise. The announcement was made about two weeks after The Smurfs 2 was released in theaters. It was originally set for a release in 2015, but was cancelled.
Plot
The film was possibly going to have the Smurfs be in a different time period.
Why It Was Cancelled
Jonathan Winters, the voice actor of Papa Smurf died of natural causes on April 11, 2013 before the film was made and Anton Yelchin, who voiced Clumsy Smurf died from blunt traumatic asphyxia after a freak car accident between June 18 and 19 of 2016.
The two first Smurfs movies were panned by critics and audences.
Results
The Smurfs 3 was permanently cancelled.
The Smurfs CGI/Live Action films are now a duology.
The Smurfs series was rebooted in 2017 with a CGI film titled Smurfs: The Lost Village.
Trivia
It was going to be about time traveling back to possibly 1878.