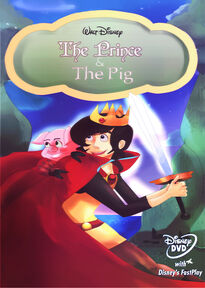 The director of the upcoming Star Wars: The Last Jedi, Rian Johnson, had written an "epic poem" about a prince and his pet pig while he was a student at USC.  Reported on July 17, 2003, Disney paid 6-figures for the pitch, and were going to make The Prince and the Pig into an animated film.  The plot of the poem was the prince and pig go on an adventure to either steal the moon or steal a piece of the moon.  Jane Goldenring was slated to be the film's producer.  Disney's VP of Creative Affairs, Leo Chu, and Director of Creative Affairs, Karen Rupert, were slated to be supervisors on the film.
Plot
The plot would be about a pig and a prince with a surreal goal of trying to steal a moon, the rest of the plot is unknown.
Why It Was Cancelled
It was never revealed why exactly this film was cancelled, but probably due to the director wanting to focus on something else.
Probably scrapped in favor of Brother Bear.
Results
This film never happened and will be scrapped forever.
Elements of the pig in the film was used in the film The Black Cauldron,
References