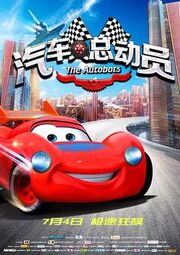 Note: Please do not add "The Autobots is a ripoff of Cars" because that is rude to include in this article.
The Autobots 2 is a cancelled sequel to the 2015 film The Autobots. The Autobots 2 was originally scheduled for release in Summer 2017. However, the sequel was cancelled due to The Walt Disney Company winning a copyright case.
Plot
The plot is unknown, but it will most likely take place where the original left off.
Development
Zhuo Jianrong, who insisted he had never seen any movies in the "Cars" franchise before making his own movie, claimed "The Autobots 2" will be completely different and a "much finer" movie than his first installment.
"The storyline and main parts will be completely different than the first one," he said. "This time we are learning from Hollywood, trying to make it a blockbuster."
Why It Was Cancelled
Disney defeated Zhuo's prediction on an Autobots sequel with a copyright infringing case and winning in the end.
The film was widely panned by everyone around the world, especially the Chinese, who sees it as a disgrace to the animation industry in China.
Results
Cars 3 came out in 2017 instead, taking The Autobots 2's original release date.
Disney refrained The Autobots 2 from happening.
The Autobots is a stand-alone film.
The Autobots sequel is permanently cancelled.
References