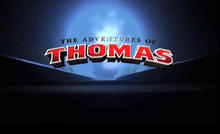 The Adventures of Thomas was a planned film starring Thomas the Tank Engine. It would have been made by HIT Entertainment along with CGI provided by Weta Digital.
Plot
The plot would have revolved around a boy who discovers the Island of Sodor, a place his father has visited before, but fails to remember. It is also confirmed that it would have a steam engines vs diesel engines conflict.
Why It Was Cancelled
The last theatrical Thomas film, Thomas and the Magic Railroad was considered a failure.
The steam vs diesels concept has also been done before in the straight-to-DVD movie Calling All Engines!.
It got stuck in the development vault for a long time, first it was set to be released in 2010 during the 65th anniversary of the Railway Series, but then was changed to Spring 2011, then to 2012, then to 2013, and then to 2014. It was postponed so many times, that it seems to be the fact that nobody was working on it anymore.
Mattel took over HIT Entertainment (who was working on the movie) in 2013, meaning Mattel may have dropped production for this movie to make room for production of other projects such as Season 17-present and more straight-to-DVD films/specials.
Result
The film was permanently cancelled.
The plot of this movie is very similar to one of the side-plots in Thomas and the Magic Railroad.
Gallery
Trivia
This film would have made toys aimed for older Thomas fans than for generally younger Thomas fans.
Much like Thomas and the Magic Railroad, this film would have used live-action sequences, but would have a mix of CGI instead of electric model trains with static clay faces.
According to an interview with UCLA Magazine, this movie would have been released in 2013, it is however unknown if this is true or not.
According to SiF in 2019, the script was written and completed in 2010.
It appeared that the movie would have been distributed by Cinetic Media and UTA's Independent Film Group in conjunction with HiT Entertainment.
Community content is available under
CC-BY-SA
unless otherwise noted.