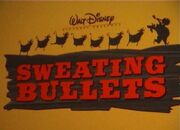 Sweating Bullets was the former version of Walt Disney Animation's film from 2004, Home On The Range. Which in either versions, still had different storylines set. The film was originally scheduled for a release in 2001.
Plot
A young little bull called Bullets, wants to be the leader for the horses and cows. But a timid sheriff wealthy to destroy his dream arises.
Development
It would of been directed by Mike Giaimo and Mike Gabriel.
Why It Was Cancelled
Michael LaBash didn't like the original story for a bull wanting to be a "herder". So, the story was changed to some female cow protagonists saving their farm from a shooter with a $300 Reward instead.
Mike Giaimo and Mike Gabriel were removed from production due to swapping story problems. So they were replaced by Will Finn and John Sanford.
There were synopsis problems.
The film had some slapstick scenes that had to be removed for being way too cheesy.
Results
The original version of Home On The Range was permanently cancelled.
Home On The Range later finally released instead on April 2, 2004 and received mainly negative reviews.
The characters went from a single Texas Longhorn calf called Bullets to three cow characters called Grace, Ms Calloway, and Maggie.
References
A tribute for the film: https://www.youtube.com/watch?v=YlNJVn687gg
Trivia
The title card for the film is probably inspired by the 1992 heavy metal song Sweating Bullets by music band Megadeth.
Gallery
This gallery needs a extra hand, you can help Cancelled Movies. Wiki by expanding it.