Note: Please do not add "Olivier Jean-Marie died on May 13, 2021.", because this was before he died.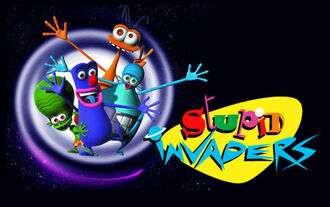 Stupid Invaders is a CGI animated film based on the Xilam's animated series, Space Goofs. Produced by Action Synthese (infamously known for Doogal (The Magic Roundabout) and Xilam and was going to be directed by Olivier Jean-Marie, the film was going to be originally released in the second quarter of 2009.
Plot
Four harmless and lit aliens including the broken saucer accidentally falls on our planet trying to escape a few overexcited earthlings: idiot general, stressed journalist, mad scientist in demonic plan, robot garden gnomes. To survive this stay forced into this mad world, the earth they will have to rely on the friendship and resourcefulness of a little girl fan of Science Fiction.
Cast
Charlie Adler as Candy Caramella
Maurice LaMarche as Etno Polino
Danny Mann as Gorgious Klatoo
Jim Gomez as Bud Budiovitch
Haley Ramm as Lou
Why It Was Cancelled
Action Synthese, one of the studios produced the film along with Xilam, ended in a compulsory liquidation and went bankrupt on March 25, 2013.
Space Goofs on Ending May 12, 2006 with a series on Xilam plan future that only not revived series Third
Results
The film was permanently cancelled.
Although the film was never completed, the trailer is still up.
Gallery
Video