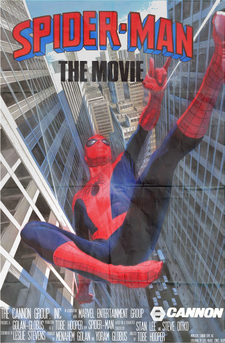 Spider-Man: The Movie is a proposed adaptation of the Marvel comic book character Spider-Man which was scheduled to be released around Christmas of 1986. The film's stars would include Scott Leva as Peter Parker/Spider-Man and the late Bob Hoskins as Doc Ock and would be directed by Joseph Zito.
Plot
Unknown
Why It Was Cancelled
A bunch of films distributed by Cannon Pictures were box office failures including Superman IV: The Quest for Peace, Masters of the Universe and Cobra.
Elements of the movie were reworked into the 1989 movie Cyborg, which was also made by Cannon Pictures.
Cannon Pictures went out of business in 1994.
Results
This version was permanently cancelled.
Scenes that were going to be in this version went into the making of Cyborg.
In 2002, Columbia Pictures released Spider-Man into theaters.