Note: This was the original version of Spider Man No Way Home, and it actually did exist, so please don't delete the page and leave it as is.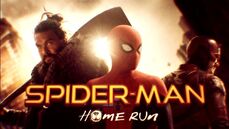 This is how Spider Man: No Way Home was going to be, which was planned for July 2021.
Plot:
It is not known what the plot would be, but in this plot, Peter's life would be in crisis after Mysterio revealed his identity in the Far From Home post credits and that he faced along with Daredevil would face a villain called Kraven the Hunter.
Cast:
1. Tom Holland as Peter Parker/ Spider-Man
2. Zendaya as Michelle Jones
3. Jacob Batalon as Ned Leeds
4. Jason Momoa as Kraven the Hunter
5. Charlie Cox as Matt Murdock/ Daredevil
6. Jon Favreau as Happy Hogan.
Why It Was Cancelled:
The curfew at home due to the COVID-19 pandemic stopped the filming of the film.
Jason Momoa already worked for DC, so Marvel would not allow it in the movie.
The plot was rewritten many times.
People will continue to negatively criticize Tom Holland's Spider-Man as dependent on Iron Man.
Results:
In March 2021, Spider Man: Home Run changed its name to Spider Man: No Way Home.
Kraven the Hunter was removed from the script and replaced by villains from previous franchises: such as Tobey Maguire's Spider-Man's Green Goblin, Doctor Octopus, and Sandman, and Andrew Garfield's Spider-Man's The Lizard and Electro.
Unlike Home Run, Tobey and Andrew's Spider-Man came out in No Way Home, and In this now Tom Holland became a very good Spider-Man, and people for that now praise, since now Tom Holland's Spider Man became independent as a superhero.
A Kraven The Hunter movie is in development, Starring Aaron Taylor Johnson.