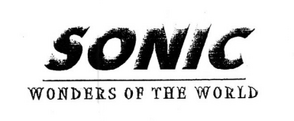 Sonic the Hedgehog: Wonders of the World is an unfinished film adaption based off the popular Sonic the Hedgehog franchise, and was also the first attempt on bringing the blue blur to the big screen. The film would of been written by Richard Jefferies, produced by Pen Densham, and was intended to be a co-production of MGM, Paramount, Trilogy Entertainment Group, and SEGA. Production first began in 1993, but was cancelled the following year before production could begin.
Plot
A 12 year old boy named Josh Pinski who's suffering from his parent's divorce meets Sonic and goes out on an adventure with him.
Why It Was Cancelled
MGM dropped out of developing the film due to creative differences.
DreamWorks were not interested in picking up the film, as Sega wanted a large sum of money for the rights to the character, and DreamWorks wanted to use a low-priced character that they could "breathe new life into."
The failure of 1993's Super Mario Bros. did nothing to change Sega's course.
Results
The film was permanently cancelled.
Sonic X-Treme, a game which was going to be in the film was also cancelled for developmental reasons in 1996.[1]
Sonic the Hedgehog: The Movie, a two episode OVA was released for Japan in 1996 and North America in 1999.
A CGI/live action Sonic the Hedgehog film with Jim Carrey and James Marsden was released on February 14, 2020.
A sequel to the 2020 film titled "Sonic The Hedgehog 2" was released on April 8, 2022.
Another sequel titled Sonic the Hedgehog 3 is expected to release in 2024.
On March 8th, 2022, during research of the book "The Complete History of Sonic SatAM," A script containing the partially incomplete story treatment for Sonic the Hedgehog: Wonders of the World was found. Jacob Berkley himself had sent these to Michelene Risley and got permission to post it all online on her Twitter. However, pages 6 and 7 are currently missing, but are meanwhile being looked for.
Gallery
External links