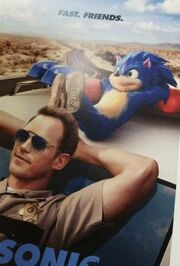 Sonic The Hedgehog was a cancelled film made by Sony Pictures Animation that was scheduled for a 2018 release. But never released. It was in production since 2014, but then was later permanently cancelled.
Plot
Same as the 2020 Paramount Pictures version. but with different changes.
Cast
Chris Pratt As Tom Wachowski.
Sam Vincent As Sonic The Hedgehog (voice for CGI) (source needed).
Why It Was Cancelled
A big fight occurred with Neal H. Moritz and Tom Rothman over Passengers. The latter wanted to slash the budget and telling the former that Passengers didn't sell well, Neal threatened the latter on selling Passengers to another studio. After Passengers became a box office flop, another big fight between Moritz and Rothman occurred, causing the former to quit Sony Pictures in favor of Paramount, taking the film rights to Sonic with him.
During the first teasers, Sonic's original movie design received massive backlashes from critics, audiences, as well as the Sonic fanbase and even his own creator, especially on social media, due to his extremely unsettling and unappealing look with his disturbingly realistic eyes and human-like teeth, resulted to redesign Sonic into cuter and bit faithful look before the Paramount version was released in 2020.
Result
Sony gave the film to Paramount Pictures, they re-created it, and it was originally scheduled to be released on November 10, 2019, but was delayed by February 14, 2020 due to the backlash of Sonic's original design, and the film received a positive reception thanks to the redesign of Sonic.
A sequel called Sonic the Hedgehog 2 was released on April 8th, 2022. The real trailer can be viewed here on YouTube (Paramount Pictures' official channel) if you haven't already.
Another sequel known as Sonic the Hedgehog 3 was soon announced before the second film got released. Also, in the said announcement, a Knuckles The Echidna series is said to be also revealed that it's in pre-development status; the series will release in 2023. However, the third film has not yet got a specified release date.
A Netflix original series called Sonic Prime will eventually release sometime in 2022. Concept art and a teaser clip has been currently revealed to the public of fans.
Gallery
Trivia
According to Tails' Channel on YouTube in 2014, the Sony version was meant for a aim at a PG-13 rating.