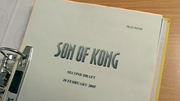 Son of Kong was a planned sequel for the 2005 remake of King Kong.
Plot
The film is said to take place 10 years after the events of the first film where the second World War is ongoing. The crew decided to return to Skull Island when they discover that Kiko was the last of his kind. After the island finally sank, the protagonists travel to Germany where they confronted the Nazis and their mutated engineered monsters in hopes of winning the war.
Why It Was Cancelled
Peter Jackson made an April Fools prank that he was going to do a remake of Son of Kong, but it never happened.
Kong was the last of his species (Megaprimatus Kong) in the 2005 film.
Jackson's version became one of the most expensive films of the 2000's, hence why Universal didn't want to deal with that problem again.
Results
The film was permanently cancelled.
There was a follow up book called The World of Kong: A Natural History of Skull Island, which follows the expeditions of the island before being postponed by the start of World War 2, as well as the island's destruction three years after the end of the war.
King Kong (2005) ends up being a stand-alone film.
Jackson decided to direct The Lovely Bones (2009) and The Hobbit Trilogy from 2012-2014.
Universal Pictures was planning to release a reboot of King Kong in 2016, but Warner Bros bought the rights and renamed it as Kong: Skull Island. Kong: Skull Island takes place in the MonsterVerse canon.
Trivia
On April 27, 2021, The Hollywood Reporter stated that Legendary was "quietly taking steps to stretch the series into one or more installments," while negotiating with Wingard to potentially return to direct. Various ideas are being considered, with Son of Kong being one potential title.