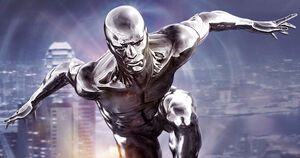 Silver Surfer was a planned spin-off to Tim Story's Fantastic Four films.
Plot
Following his sacrifice to save Earth from Galactus, Noreen Radd must return to his home planet only to discover more secrets about his past and the power of his board.
Why It Was Cancelled
While Rise of the Silver Surfer got bad reviews from fans and critics alike it was considered an improvement over its 2005 predecessor.
It was more likely to be made than a third movie.
Doug Jones hoped he would also provide the voice for the character in the film.
Results
The film was cancelled along with the planned third Fantastic Four film.
Following Disney's acquisition of 20th Century Fox. The film rights returned to Marvel Studios.
Community content is available under
CC-BY-SA
unless otherwise noted.