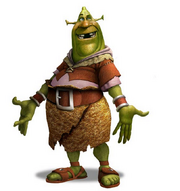 In the late 1990s, Dreamworks Pictures planned on making a
Shrek
film with Chris Farley voicing the titular character.
Plot
The plot would be the same as the 2001 film.
Why It Was Cancelled
Chris Farley died before production was complete.
Results
The Chris Farley version was permanently cancelled.
After Chris Farley died, Mike Myers finished the rest of the unused dialogue in the Chris Farley version.
Dreamworks released Shrek in 2001 with Mike Myers as the voice of the title character.
In the 2010s, Chris Farley's voice recordings surfaced.
Amblimation closed in 1997 and production moved to DreamWorks in 2001.
Now released in 1996 moved to 2001.
Community content is available under
CC-BY-SA
unless otherwise noted.