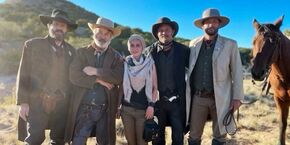 Note; Please do not add "Halyna Hutchins died by the shooting incident" because this article explains the situation, and this was before that happened! To add to that, please do not discuss politics on here!
Rust is a currently suspended American western film directed by Joel Souza and cinematography was to be made by legendary journalist Halyna Hutchins. The film was to star Alec Baldwin (who also came up with the story and serve as producer), Travis Fimmel, Brady Noon, Frances Fisher, Todd Bryant, and Jensen Ackles.
Development
The idea for the film first came to light in 2019, and it started filming the following month.
Plot
A 13-year-old boy who goes on the run with his grandfather, a man who goes by the name of Harland Rust (Alec Baldwin), after the boy fortuitously kills a rancher.
Cast
Alec Baldwin as Harland Rust
Travis Fimmel as Fenton "Preacher" Lang
Brady Noon as Lucas
Frances Fisher as Lucas' great aunt
Jensen Ackles as U.S. Marshal Wood Helm
Devon Werkheiser
Why It Was Cancelled
In October 2021, production was halted just after a firearm aim-shooting incident, in which Halyna Hutchins died when a gun being used as a prop was fired by Baldwin during the preparation for a proposed scene. The gun even wounded the director Joel Souza.
In November 2021, film rigger Jason Miller was bitten in the arm by a Brown Recluse Spider on the set. As a result of the bite, he suffered from necrosis following the bite. He was hospitalized and had multiple surgeries to fight the infection caused by the bite to avoid the soreness on his infected arm.
There was an instant Strike Authorization with the shooting laws. Ever since, the policeman came to investigate the set.
Results
Rust was permanently or is likely cancelled, due to the amount of injuries the crew had on set, so it is unlikely it will ever be released or finished.
Trivia
The gun used on the set of the film was a 45-Caliber Colt Revolver.
References