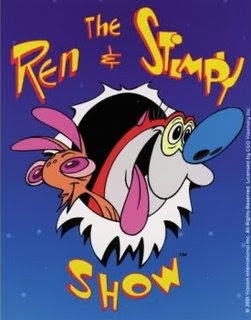 In the mid-2010s, Ren & Stimpy producer and creative and supervising director of Seasons 3-5 of The Ren & Stimpy Show Bob Camp pitched a Ren & Stimpy film to Games Animation Inc. and Paramount Pictures. However in March 2017, Bob Camp announced in the Wizard World Cleveland convention, Paramount rejected the film. [1]
Plot
The plot is currently unknown.
Why It Was Cancelled
Paramount Pictures rejected the film, due of the failure and negative reception of the 2003 spin-off Ren & Stimpy "Adult Party Cartoon" and Paramount, Games Animation Inc. and Nickelodeon refused to do with Ren & Stimpy again until 2020.
Ren & Stimpy's creator, John Kricfalusi was accused of sexual harassment and pedophilia on March 29, 2018 following the MeToo and Time's Up movement and shortly after the Harvey Weinstein sexual assault scandal, meaning the film would have seemed in poor taste.
Results
The film was permanently cancelled.
A documentary about Ren & Stimpy called Happy Happy Joy Joy: The Ren & Stimpy Story was made instead, was announced in July 2017, four months after the news about Paramount refusing to make a Ren & Stimpy film, was crowdfunded first at Kickstarter, but it failed to meet its goal and moved to Indiegogo in October 2017, which finally did meet its goal of $100,000. It was released at Sundance Film Festival on January 28, 2020 and was released on VOD on August 14, 2020. Although had a positive reception from critics and fans, it was very criticized by some people, due of the documentary was massively remade due of the accusations against John Kricfalusi on March 29, 2018 following the MeToo and Time's Up movement and the directors Ron Cicero and Kimo Easterwood stealing Fairly OddParents fanart from YouTube, more specifically from YouTuber ToonrificTariq, as well using SpongeBob fanart without permission and two YouTube videos. The documentary has no involvement of Nickelodeon and ViacomCBS, but they were credited in the documentary's end credits under "Special Thanks".
On August 5, 2020, ViacomCBS announced a Ren & Stimpy reboot to Comedy Central, as a re-imagination of the series with Billy West returning as both Ren and Stimpy, but without the involvement of John Kricfalusi following his 2018 sexual harrasment and pedophilia accusations during the MeToo and Time's Up movement and Bob Camp not being contacted by ViacomCBS, possibly for the mixed reception (mainly negative) of the Seasons 3-5 of The Ren & Stimpy Show in the 1990s. The decision was very criticized by the animation industry (including Steven Universe creator Rebecca Sugar), due of the reboot being greenlit of instead studios greenlighting original ideas and although John Kricfalusi not being involved with the reboot, a petition was created by Robyn Byrd (one of the victims of John Kricfalusi) on Change.org demanding the cancellation of the Comedy Central's Ren & Stimpy reboot, with the reason to cancel the reboot, saying it will cause trauma and endanger fans and the crew who worked in the original series.
References