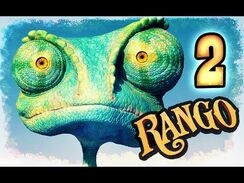 Rango 2 is a cancelled sequel to the 2011 film Rango. It would of been directed by Gore Verbinski and a screenplay by John Logan, even though the first film received praise for it's outstanding animation, positive reviews, and being a box office hit, it's sequel didn't happen.
Plot
The plot would be set after the events of the first film.
Why It Was Cancelled
The team thought it was too early to tell if there would be a sequel to the film.
Results
The first Rango film is standalone.
The sequel is shelved permanently and will likely never see the light of the day.