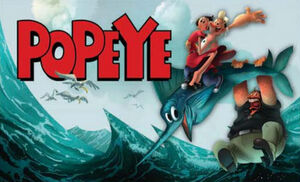 Popeye was a proposed film that was going to be made by Sony Pictures Animation Based on the Cartoon Character Popeye created by E. C. Segar. The film was to be directed by Genndy Tartakovsky (the creator of Samurai Jack and Dexter's Laboratory and the writer of The Powerpuff Girls).
Plot
The plot would be about Popeye trying to find his father.
Cast
Tom Kenny as Popeye
Grey DeLisle as Olive Oyl
Why It Was Cancelled
Genndy Tartakovsky thought that the Popeye movie wouldn't work.
"Creative differences" affected production.
Sony wanted to focus on The Emoji Movie.
Results
As of May 2020, the animated Popeye film has been moved to Warner Bros. Pictures, Warner Bros. Animation, and King Features Syndicate to be developed with Genndy Tartakovsky returning to the project.
Gallery