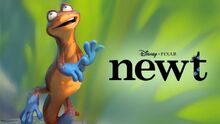 Newt, stylized as newt, is a cancelled Pixar film. Pixar and Walt Disney Studios announced the project in 2008.[1]
It would have been the Pixar studio's fourteenth animated film and was to be released in 2012, before being replaced with Brave.
Plot
A pair of blue-footed newts, Newt and Brooke, are the last remaining male and female of their kind on the planet forced together by science to save the species. The problem is they can't stand each other.The pair soon find themselves on a perilous, unpredictable adventure and discover that finding a mate never goes as planned, even when you only have one choice. Love, it turns out, is not a science.
Why It Was Cancelled
In a March 2014 interview, Pixar president Edwin Catmull stated that Newt was an idea that was not working in pre-production. When the project was passed to Pete Docter, the director of Up, he pitched an idea that Pixar thought was better, and that concept became Inside Out.
Result
As of 2018, the film is cancelled.
Trivia
A newt makes a cameo in the pixar movie: Brave in one of the witch's wood carvings.
This is Pixar's only cancelled film.
the plot was similar to the 2011 film Rio.
References
Community content is available under
CC-BY-SA
unless otherwise noted.