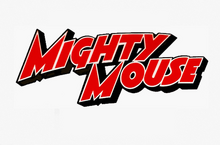 Mighty Mouse was going to be a computer animated film prodced by Paramount Pictures, Omation Animation Studios, and Nickelodeon Movies based on CBS franchise of the same name. The film was announced in early 2004 and was set to be released some time in 2013.
Plot
The plot is currently unknown.
Why It Was Cancelled
Steve Oedekerk and his company O Entertainment/Omation left Nickelodeon in 2013 after the failure of Planet Sheen, and O Entertainment/Omation had become dormant
In April 2019, following the CBS/Viacom re-merge into ViacomCBS, Jon and Erich Hoeber announced they signed on to script the film for Paramount Animation, with Karen Rosenfelt and Robert Cort producing the film.
Both Omation Animation Studios and Nickelodeon dropped out of the project after the movie was moved to Paramount Animation in 2019.
Results
The original version of the Mighty Mouse film was permanently cancelled.
The film will be reworked into a CGI/live-action hybrid film for Paramount Animation. So far, it is currently unknown when the film will be released and who will be starring in it.
As of 2021, there have not been any updates.
Gallery