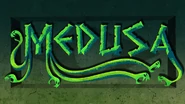 Plot
Medusa is a normal human, who, like many of us, is overwhelmed with trying to fit a certain mold to please others. Her resulting popularity ticks off the wrong Goddess who turns her into the snake-haired monster we all know and fear. Medusa sets out on a quest to reverse this curse with the help of a goofy team of oddball and misfit mythological creatures who help her learn that what makes you different is, in fact, what makes you strong.
Why It Was Cancelled
Sony decided to focus more on production of The Emoji Movie.
The cancellation reasons are unknown
Development
In June 2014, Sony Pictures Animation announced that Lauren Faust would direct an animated comedy feature film titled Medusa, which was based on a pitch from Todd Alcott and Holly Golden. The film would tell a new story about the character of the same name from Greek mythology, in which she sets out on a quest to revert the curse she earned from a jealous goddess. Sony Pictures Animation president of production Michelle Raimo Kouyate stated, "After hearing the ingeniously funny pitch from Todd and Holly, we could immediately see the enormous potential in the idea. And when Lauren Faust, a uniquely gifted animation filmmaker with a real talent for relating to audiences, connected with the project, we knew the combination of her vision and their story would create something extraordinary. MEDUSA will be a clever, heartfelt animated comedy about a girl who's having the ultimate bad hair day." Faust also stated, "Todd and Holly's version of the tale of Medusa is filled with so many of my favorite ideas to work with: magic, mythology, humor and strong, funny, extremely relatable characters. I was excited by the idea of showing the comedy behind an otherwise horrific monster, and I was really drawn to the writer's unique re-imagining of Greek mythology."
In November 2015, Lauren Faust announced she was no longer in touch with the project or Sony Pictures Animation. Faust stated, "I very much enjoyed my time at Sony Pictures Animation and was extremely excited about the progress our amazing team was making on Medusa. But, as it happens at so many studios with so many projects, we ultimately ran into creative differences on the direction of the project. I do not know if Medusa has been shelved, but I am no longer working on it or at Sony." According to internal sources at Sony familiar with the project, Medusa is still in active development, and the original producer, Michelle Raimo Kouyate, is still attached to the project. Later that month, Sony Pictures Animation president Kristine Belson announced she is championing the project and currently looking to bring in a new director. In July 2017, Robert Rugan announced on his website that he was the new director of the project.  In March 2019, however, he said the project was cancelled.
Gallery
Results
The film's development was kept unfinished and was permanently cancelled.