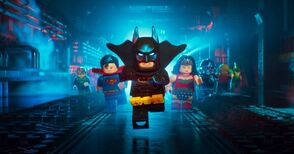 Lego Superfriends was a planned sequel to The Lego Batman Movie that would have been an installment in The Lego Movie franchise, with Chris McKay returning to direct the film and the script being written by Michael Waldron and Dan Harmon. The film was set for a release in 2022.
Plot
According to director Chris McKay, the sequel would have focused on Batman's relationship with the Justice League, particularly Superman, and the main villains would have been Lex Luthor and OMAC. It was set to be based on the 1973-1985 DC Comics-based animated series Super Friends, as well as loosely based on the 1997 film Boogie Nights.
Cast
Will Arnett as Bruce Wayne / Batman
Channing Tatum as Superman
Michael Cera as Dick Grayson / Robin
Rosario Dawson as Barbara Gordon / Batgirl
Ralph Fiennes as Alfred Pennyworth
Ike Barinholtz as Lex Luthor (expected to return)
Unknown actor as OMAC
Rest of the cast is unknown.
Why It Was Cancelled
Although The Lego Batman Movie received positive reviews from critics and audiences and was successful at the box office, both The Lego Ninjago Movie and The Lego Movie 2: The Second Part were box office disappointments, causing Warner Bros. to end off their movie deal with Lego in December 2019.
Universal Pictures acquired the film rights with Lego in April 2020, which means that all LEGO-fied WB characters, including those from DC Comics, are no longer available as part of Universal's Lego Movie franchise, leading to the sequel's cancellation.
Results
Lego Superfriends was permanently cancelled after Warner Bros. gave up their film rights with Lego in December 2019, with Universal acquiring the rights in April 2020 and working on future Lego films, most likely rebooting The Lego Movie franchise.
The Lego Batman Movie remains as a stand-alone spin-off film to The Lego Movie.
Warner Animation Group decided to make DC League of Super-Pets instead.