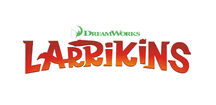 Larrikins is a cancelled animated film from DreamWorks Animation. It were to be directed by Tim Minchin and Alessandro Carloni, written by Harry Cripps, rigged by Peter De Seve, Gabriele Pennacchioli, Dave Weatherly, Alexis Wanneroy, Scott Lemmer, and Arjun Gedam, and to be produced by Christina Steinberg. It was originally set to be released on February 16, 2018, before its cancellation was announced on March 5, 2017. Had been released, it would have been the first DreamWorks Animation film to be distributed by Universal Pictures, whose parent company NBCUniversal acquired DWA in 2016.
Plot
When an uptight bilby named Perry gets kicked out of the sheltered life of his family burrow, he ventures out and finds himself launched on a musical adventure across the mystical Australian outback. On the way, he must battle an evil army of monsters known as the Syvalionilas, or "Syvas" for short, and win the heart of his one true love.
Cast
Dee Bradley Baker as Perry the Bilby.
Hugh Jackman as Red the Red Kangaroo.
Josh Lawson as Andrew the Cane Toad.
Margot Robbie as a Dingo.
Naomi Watts as Dorset.
Rose Byrne as Skinny the Frilled Lizard.
TBA as Sonny the Frilled Lizard.
TBA as Rocky the Frilled Lizard.
Ben Mendelsohn as Howard the Crocodile.
TBA as Howard's partner (unnamed).
Jacki Weaver as Doris the elderly Rabbit.
TBA as a Red Fish.
TBA as Kylie the Baby Bird.
TBA as Auntie the Crow.
TBA as a Great-White Shark.
Damon Herriman as Jake the Rabbit.
Ewen Leslie as Hotspur the White-Bellied Sea Eagle.
Why It Was Cancelled
According to sources, it wasn't working out creatively. It had been pushed around the schedule and producer Gregg Taylor transitioned from his head of development job at DreamWorks Animation to work on the film. The project then made the move from 20th Century Fox to Universal Pictures after the studio was acquired by NBCUniversal via Comcast. This constant change of workplace and schedule may have been the reason why it was shelved, along with The Croods 2: A New Age, though the latter has since been revived.
It's possible that DreamWorks wanted to focus on The Boss Baby instead.
Result
The film was shelved permanently.
No DreamWorks Animation films were released in 2018.
Trivia
DreamWorks Animation released a short called Bilby which features characters from the cancelled movie, Larrikins.
The film however would've served as an slight inspiration for Netflix's December 2021 Australian-American animated film called Back to the Outback, which Cripps was also involved in.
It would of been DreamWorks' third musical, the only two others being The Road To El Dorado and Trolls.
It would of been the first DreamWorks film to be released in February.
Did You Know?
In April 2020, it was revealed that Studios like Animal Logic and Netflix were interested in buying the film rights to the film in order to revive it, but DreamWorks said that Universal made it non-buyable for purchase. Likely due to DreamWorks commitment with Bilby.
On December 21st, 2018 Bilby was uploaded to DreamWorks' official YouTube channel, but was deleted sometime afterward likely due to copyright, however it was released as a bonus feature on the Blu Ray release of How to Train Your Dragon: The Hidden World.
References
Footage
Clips of Larrikins were uploaded on YouTube by Jaimie Keller on September 27, 2020.
Some storyboards containing test animation(s) were uploaded on Vimeo by Rune Bennicke.
Gallery
This gallery needs more help, you can help Cancelled Movies. Wiki by expanding it.