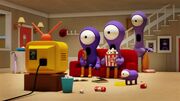 Johnny Express is a film that was going to be based on the 2014 short film of the same name, Illumination Entertainment wanted to make a 2D full length film of Johnny Express. Despite Illumination announcing it in 2015, there has since been no news released more on the short inspired movie.
Plot
It would of followed the adventures of a space delivery man named Johnny Express who is assigned to deliver packages to different kinds of planets, but whenever he tries to do his task, some mishaps occur.
Why It Was Cancelled
Nothing much is known about the cancellation, except that probably the director of the film, Chris Meledandri, has given up hope to work further on the project.

Result
Johnny Express is a stand alone short film.
The movie version of Johnny Express was permanently cancelled.
References