Note: Please do not add "John Hurt died on January 25, 2017", because this was before he died.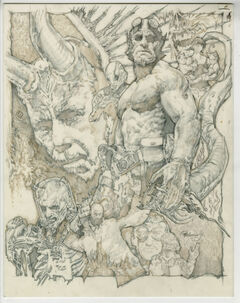 Hellboy III was a sequel to the 2008 sequel Hellboy II: The Golden Army which was to have Ron Perlman reprise his role as the titular character and have Guillermo del Toro direct.
Plot
The plot is currently unknown.
Why It Was Cancelled
The screenplay was not made. Despite all of that, Guillermo del Toro and Ron Perlman have expressed interest in making the third film.
Mike Mignola and Lawerence Gordon treated Guillermo del Toro unfairly by replacing him with an entirely new director. Del Toro left the production, followed suit by Ron Perlman who refused to work on the film with said new director's involvement.
Result
In 2019, a Hellboy reboot was made with David Harbour as the title character. The film was panned by critics, audiences and fans alike and was deemed a box office failure.