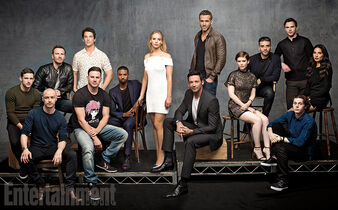 Gambit was a planned American superhero film based on the Marvel Comics character of the same name and would have starred Channing Tatum in the title role. The film would have been the fourteenth installment in the X-Men film series.
Development
In October 2007, Gambit was believed to be appearing in the spin-off film X-Men Origins: Wolverine, set for release in 2009.[1]
In September 2013, Channing Tatum expressed interest in taking over the role from Kitsch, saying, "Gambit's my favorite. I'm from New Orleans, around that area. My dad's from New Orleans, and I like to do a Cajun accent. I could do it for real. No knock on Taylor Kitsch, though, 'cause I actually like his Gambit, but I've always lived around Cajun people ... Gambit was always like the woman-loving, cigarette-smoking, drinking [guy]. He was the punk rock of all the superheroes."[2]
In January 2014, X-Men franchise producer Lauren Shuler Donner revealed that she had begun planning a Gambit film with Tatum. She also said it "doesn't have to be a great big movie. It's a thief in New Orleans, it's a whole different story. [Tatum]'s on board, and I have to get the studio on board."[3]
In May 2014, Tatum officially signed on to star in a Gambit film that was intended to begin a new standalone franchise; he would introduce his version of the character in X-Men: Apocalypse (2016).[4]
In October 2014, the producers were discussing the film's story and looking for a writer, with Josh Zetumer hired in the role at the end of the month, working off a story treatment by Gambit's comic creator Chris Claremont. Alongside Donner and Kinberg, Tatum was set to produce the film with Reid Carolin of their company Free Association.[5]
In January 2015, Fox gave the film an October 7, 2016 release date.[6]
In May 2015, Zetumer completed his first draft of the script, which Tatum described as a "killer" origin story that changed "some of the tropes of these movies".[7]
In June 2015, Rupert Wyatt signed on to direct the film, with Tatum saying, "We finally found someone that I really do believe wants to make Gambit". Tatum added that the film was "a really unique opportunity" among superhero films, and was no longer set to appear in Apocalypse. Filming was set to begin in New Orleans in late October or early November of that year.[8]
In July 2015, the film was believed to focus on "mobsters and thieves [rather than] 'end-of-the-world' stakes", but Fox also wanted to "load up on spectacle and make this character as popular as possible" with a large $154 million budget to be mostly spent in Louisiana. Tatum was also renegotiating his contract with Fox and was believed to be close to dropping out of the project due to Fox's intention to have Tatum become one of the "anchor characters" of the franchise following the impending retirement of Hugh Jackman as the series' former lead character Wolverine. This would be a major commitment for Tatum to make.[9]
In September 2015, Wyatt left the film after changes to its schedule caused a clash with another project he was committed to.[10]
In November 2015, Doug Liman was in final talks to take on the film.[11]
In January 2016, filming was set for March 2016.[12]
In February 2016, Fox officially removed Gambit from its October release date.[13]
In May 2016, Kinberg explained that the group had collectively been unhappy with the film's script, but were now "very close" to completing it. He added that "the most important thing is getting the tone and the voice right ... [we are] hoping that Gambit is like what Deadpool was—the start of a new franchise within the X-Men universe—we want to make sure we get it right."[14]
In July 2016, Kinberg praised the script for Gambit and said that they were now aiming to begin filming at the beginning of 2017.[15]
In August 2016, Liman left the project in a "mutual split" with Fox, choosing to instead direct the DC Comics-based film Dark Universe.[16]
In November 2016, Gambit was expected to begin development again with a new director after Tatum completed work on the film Logan Lucky (2017).[17]
In January 2017, Donner confirmed that Tatum was still attached to the project.[18]
In February 2017, Kinberg described the film as being in "active development". He stated his hope for the project to be ready by the end of 2017, for filming to then begin at the start of 2018. He noted that there were already three X-Men franchise films set for release in 2018 at that point, so Gambit "can wait for a moment." Kinberg also compared Tatum's commitment to the role of Gambit to the determination shown by Reynolds and Jackman to get their most recent X-Men films (Deadpool and Logan (2017), respectively) made "right", and reiterated Fox's intention to build a new Gambit film franchise.[19]
In May 2017, X-Men producer Hutch Parker was unable to provide an update on the film, but said "there's still a desire and a passionate interest to see [Gambit] made."[20]
In July 2017, Tatum reiterated that he was still actively working on the film, and discussed the long development period for the film and the many delays to the production, saying, "I think we got super, super lucky. I think a lot of setbacks, we'll look at them in hindsight as giant blessings. Because we were making it, [and] we're writing a movie right at the turn of a paradigm shift in movies. So we got lucky that we didn't just come out with ours, which I don't think was fully formed. It was a good idea. We were going in the right direction. And then we got to learn from two really beautifully different kinds of a complete paradigm shift [in] Logan and Deadpool."[21]
In August 2017, Tatum added that work on the Gambit script had "started over", and that "we're really getting to do some of the things we've always wanted to do with the script" which he described as "something that this genre of movie hasn't seen before."[22]
In October 2017, the film was given a February 14, 2019 release date, and Gore Verbinski was signed on to direct. Casting for the film was also "well underway", and Jenny Beavan was hired as costume designer.[23]
In November 2017, Lizzy Caplan was in talks to join the film as its female lead, and location scouting for the film was taking place in New Orleans.[24]
In December 2017, filming was set to begin in New Orleans in March 2018.[25]
In January 2018, Verbinski withdrew from the project due to a scheduling conflict, though creative differences were also reported, and Fox subsequently delayed the release date to June 7, 2019.[26]
In April 2018, the producers met with several directors for the film.[27]
In May 2018, Kinberg stated that he and Tatum were happy with the current script for the project and hoped to pick a new director in "the next couple of weeks and shoot the movie maybe the end of this summer".[28]
In September 2018, Fox was believed to be interested in starting production on February 15, 2019. The studio was still looking to shoot the film in New Orleans, and was looking to use Big Easy Studios for production space after doing the same for Logan. This new start date gave the studio time to hire a new crew for the film after previously hired crew members were let go. Fox also delayed the release of the film again, pushing it to March 13, 2020, and Carolin was believed to have been working with Zetumer on the script. [29]
In October 2018, Kinberg confirmed that the version of the film they were developing was significantly different from their earlier plans, which is why the tone had changed from a heist film to a romantic comedy. He elaborated that some of the heist elements remained in the film due to Gambit still being a thief, but the focus would be a love story between Gambit and Belladonna.[30]
In January 2019, it was reported that Tatum was interested in directing the film along with starring.[31]
In February 2019, Donner revealed that Gambit, along with the rest of Fox's Marvel films, was "on hold" until Disney's acquisition of Fox was complete.[32]
In May 2019, Gambit was officially cancelled by Disney and removed from its release schedule.[33]
Why It Was Cancelled
The film was in development for thirteen years and numerous attempts for Channing Tatum to portray the role in other films failed.
Disney bought Fox in between 2017 and 2019.
This film along with other future X-Men films were permanently cancelled after Disney bought Fox in 2019.
The film rights returned to Marvel Studios.
Result
The film was permanently cancelled.
Videos