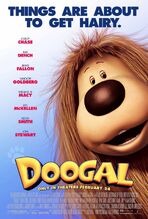 Doogal is a 2006 animated film which is a US dub of the 2005 film The Magic Roundabout and was considered one of the worst animated movies ever made, Originally Butch Hartman (creator of Nickelodeon's The Fairly OddParents, Danny Phantom, T.U.F.F. Puppy, Bunsen is a Beast and Pocket.watch's HobbyKids Adventures) was chosen as the lead writer of this version by Harvey Weinstein, but after the film come out most of his original script was re-cut, re-written and re-dubbed by Harvey Weinstein as he revealed in a 2017 interview during the 2017 scandal surrounding and following Harvey Weinstein during the MeToo and Time's Up movement.
Plot
The US version would have been the same as the original 2005 film.
Cast
Daniel Tay
Chevy Chase
Jimmy Fallon
Kylie Minogue (reprising her role from the original version but with an American accent)
Whoopi Goldberg
Bill Hader
Judi Dench
John Krasinski
William H. Macy
Kevin Smith
Jon Stewart
Why It Was Cancelled
According to Hartman in a 2017 interview on YouTube during the Weinstein scandal, the film was originally going to include a live-action frame story similar to The Princess Bride but it was later scrapped and rejected due to budget costs and was replaced with narration from Judi Dench.
Butch Hartman's original script was meant to stay in sync with the animation same with the 2005 version and unlike the final version with much of his script was supposed to be recorded by the actors (Daniel Tay, Chevy Chase, Jimmy Fallon, Kylie Minogue (who reprised her role from the original version but with an American accent), Whoopi Goldberg, Bill Hader, Judi Dench, John Krasinski, William H. Macy, Kevin Smith and Jon Stewart) who star in the film, with most of them being directed by Hartman.
According to Hartman, the original U.S. movie poster had his name and his production company Billionfold Inc. on it, until they were forced to be removed in later posters in copyright favour of both Pathé and Action Synthese's credits.
Results
In the end, when the film was released, much of Hartman's original script was re-written and re-recorded without his consent by producer Harvey Weinstein and his distribution and production company The Weinstein Company with a screenplay by Hoodwinked! co-director Cory Edwards. Only 3% of his material made it into the final cut. (approximately only two lines of dialogue: "We must make it back to the carousel right away!" and "The carousel!" and just some bits of his original lines).
The final version by Harvey Weinstein had an overabundance of pop culture references and flatulence jokes, neither of which were presumably present in Hartman's script or the original version of the film.
Cory Edwards, co-director of Hoodwinked!, was responsible for the new screenplay of the US dub and the pop culture references and flatulence jokes involved in Harvey Weinstein's version of the film.
Doogal was a critical and commercial failure.
The American failure of the film led Action Synthese to strictly only produce TV shows like the reboot of The Magic Roundabout (which only aired for a limited time on Netflix in America, Europe & UK) since then, and, 7 years after Doogal was released, the company was subject to bankruptcy causing their planned films (A second Magic Roundabout film, an adaptation of Xilam television animated series Space Goofs and John Boorman's animated adaptation of The Wizard of Oz) to be cancelled and also led to Pathé UK give up UK distribution rights in 2010 after the American failure of Doogal in 2006 and later on the UK failure of the Paris Hilton movie The Hottie and the Nottie in 2008 with one of their films Chatroom being transferred to the now defunct Revolver Entertainment and since then only produced biographical films they produced such as The Iron Lady, Philomena, Pride, Florence Foster Jenkins and Judy but only distributed Pedro Almodóvar's films in the U.K. since then.
Doogal has been considered as one of the worst animated films ever made.
Butch Hartman has since disowned and regretted the film after most of his script was recut, rewritten and re-recorded by Harvey Weinstein without his permission.
Both The Weinstein Company and its division Dimension Films has since been shut down in 2018, following the Harvey Weinstein scandal and has since both reformed into Lantern Entertainment and Spyglass Media Group in July 2018 (the same year as the shutdown of The Weinstein Company and Dimension Films).
Gallery
Videos