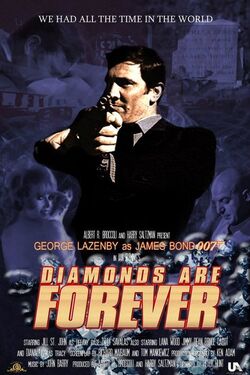 After the release of On Her Majesty's Secret Service in 1969, George Lazenby was offered to come back as James Bond in Diamonds Are Forever as part of a seven-picture deal he signed with EON Productions before he decided not to reprise the role.
Plot
The film would have been a direct sequel to On Her Majesty's Secret Service with Bond seeking revenge for the death of his wife Tracy Bond. Tracy's death would have been part of the pre-titles sequence.
Why It Was Cancelled
George Lazenby refused to return as James Bond after telling his agent he was reluctant to reprise the role even before On Her Majesty's Secret Service was released.
The script was heavily re-written after Lazenby's departure in order to remove the references to Tracy Bond and her demise.
Results
The George Lazenby version was permanently cancelled.
On Her Majesty's Secret Service became the only film in the James Bond franchise starring George Lazenby as 007.
After Lazenby stepped down as Bond, Sean Connery took on the role again in the 1971 film.