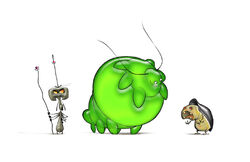 Big Nasty is a lost 2007 Sony Pictures Animation project film that were to include micro animals such as tardigrades (water bears) and some other animals/humans. No updates on the film until 2020 when character designer Sylvain Deboissy posted on ArtStation with a description confirming that the project was cancelled.
Development
On August 2004, Sony Pictures Animation hired Don. D. Scott to write a CGI Musical film entitled Big Nasty, Additionally, Scott was also producing the film through his production company, The Bridge, along with Sean Bailey. Overseeing the film for Sony would have been done by Penney Finkelman Cox and Nate Hopper.
On February 2007, Penney Finkelman Cox left Sony Pictures Animation, however she would still remain as a producer for the project.
Why It Was Cancelled
It was never really confirmed why it was cancelled, but probably due to some problems at Sony.
Results
The film never came out and will continue to be shelved.
Trivia
This would have been Sony Pictures Animation's first musical film.
References