Beyond the Sky was a planned sequel to Planes and Planes: Fire & Rescue that was set to be the third and final installment in the Planes film trilogy, a spin-off to the Cars franchise by Pixar. It was originally going to be released on April 12, 2019, but was suddenly removed from the release schedule on March 1, 2018. It was cancelled following the shutdown of DisneyToon Studios on June 28, 2018.
Plot
The film was planned to explore the future of aviation in outer space, the rest of the plot is unknown.
Why It Was Cancelled
DisneyToon Studios was shut down on June 28, 2018[1] (mentioned earlier).
The first Planes film received generally negative reviews from critics and audiences while Planes: Fire & Rescue had mixed reviews.
John Lasseter departed from both Disney and Pixar in November 2018
Another animated film Missing Link was released on April 12th, 2019.
Results
Development of Beyond the Sky was left unfinished and the film was permanently cancelled.
The first two Planes films became a duology.
Tinker Bell and the Legend of the NeverBeast, which was released on December 12, 2014 in the United Kingdom and March 3, 2015 in the United States, was the final film produced and released under the DisneyToon Studios label.
Characters from the Planes films will instead appear in the Cars spin-off Disney+ series, Cars on the Road.
Footage
Some footage from the film was uploaded on April 26, 2021.
Gallery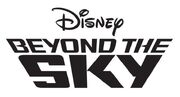 References
1.https://blogmickey.com/2018/02/breaking-cars-universe-space-movie-titled-beyond-sky/