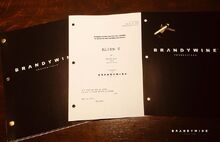 Alien 5: Awakening was a planned film in the Alien series.
Plot
The movie would have taken place about 30 years after Aliens and would have included an acid-scarred Hicks, Ellen Ripley and Newt as a grown woman. It would have ignored events of Alien 3 and Resurrection and focus around what happened after Aliens.
Production
In early 2015, it was confirmed that Neill Blomkamp would direct the fifth Alien film, which would act as a direct sequel to Aliens. Ridley Scott cancelled the film project in May 2017.[1]
Why It Was Cancelled
Ridley Scott and 20th Century Fox wanted to focus on Alien: Covenant and possible sequels to that film.
Neill Blonkamp went on to pursue other projects.
Results
The film was permanently cancelled.
In 2004, Alien Vs. Predator was released which was panned by critics and was followed with a sequel in 2007 titled Alien Vs. Predator Requiem which also got panned. In 2012, Prometheus was released which was well received since it ignored events of both AVP films. In 2017, Fox released Alien: Covenant which got mixed reviews and was a box office disappointment. In March of 2019, Disney officially purchased Fox and now own the rights to both Alien and Predator. It is currently unknown when the next film will be made and or released, but it was confirmed that both the Alien and Predator franchises will still be rated R.
Alien is going to get a television series on FX.
Video
External Links
Alternate Fates of Hicks and Newt
References