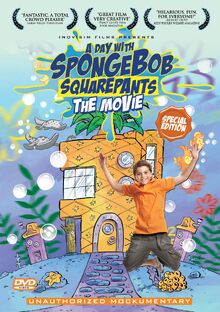 A Day with Spongebob Squarepants: The Movie is a 2011 direct-to-video mockumentary made by a company called "Inovisim Films", meaning it was not made by Nickelodeon.
Plot
An eight year boy named Seth wins a contest called "Spend A Day with Spongebob". However, the day doesn't go quite as they planned, resulting in a hair raising adventure.
Why It Was Cancelled
The cancellation reason is possibly because Indvisim Films was sued by Viacom and Nickelodeon.
Result
The company had to be quiet about the movie.
Trivia
The name "Inovisim Films" doesn't exist. And is, in fact, one of the many fake names made by Reagal Films, who is known for making unauthorized mockumentaries.
The DVD cover is photoshopped.
The kid on the cover named Seth is not an actor at all but it was a stock image of a boy jumping. [1]
References
Community content is available under
CC-BY-SA
unless otherwise noted.